Italian gelato in Florence: 7 best gelato shops in Tuscany's capital
You may already know that the Italian gelato is one of the most loved delicacies by anyone who visits the country. It is easy to understand why! First of all, the ingredients are always fresh and have excellent quality. In addition, the absence of food preservatives, low fat content and impeccable creaminess are among the secrets of this delight, which is different from the regular ice cream.
However, there are so many options that you can get lost. Therefore, we will let you know 7 gelaterias to visit while you are in the historic center of Florence.
Shall we go on this delicious tour?
Italian gelato in Florence: our 7 tips
1. Vivoli
Where: Via Isole delle Stinche, 7r
Why to go: Vivoli produces a true classic Italian gelato in Florence! It is one of the oldest artisanal gelaterias in the city, having started its production in 1930. Since then, four generations of the same family have taken care of the business, producing the gelato, always with the highest quality.
Besides the gelateria, Vivoli is also a pasticceria where you can find many types of wonderful Italian sweets. It is a perfect place for those who love a treat!
What to see nearby: The Piazza and the Basilica di Santa Croce

Unmissable flavors: Cream and Passion Fruit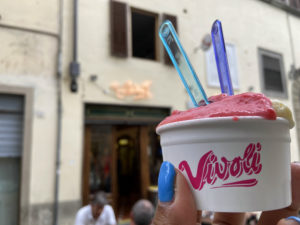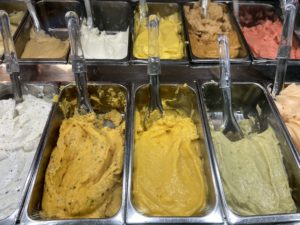 2. Santa Trinita
Where: Piazza de' Frescobaldi 11/12r
Why to go: Santa Trinita is definitely one of the best places in Florence to try the Italian gelato. First of all, the location is excellent, since Santa Trinità is in the historic Palazzo Frescobaldi, facing Santa Trinità Bridge.
Also, we must mention the quality of the products. The ingredients are fresh and carefully selected (such as pistachio from a small producer in Bronte, Sicily, Japanese black sesame and hazelnuts directly from Piedmont!). The gelato is produced daily and there are more than 40 flavors of authentic Italian gelato and granita, perfect for the summer!
Do you want more? Next to the gelateria, Santa Trinità has also an emporium. Yes! After enjoying the authentic Italian gelato, you can buy typical Tuscan products, including wines, olive oils and chocolates, such as the award-winning Amedei.
What to see nearby:An incredible view of the Ponte Vecchio, as well as the Piazza Santa Trinità and the super-elegant Via de' Tornabuoni.
Unmissable flavors: Strawberry with Yogurt and Honey + Mascarpone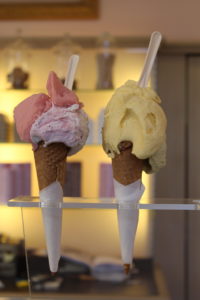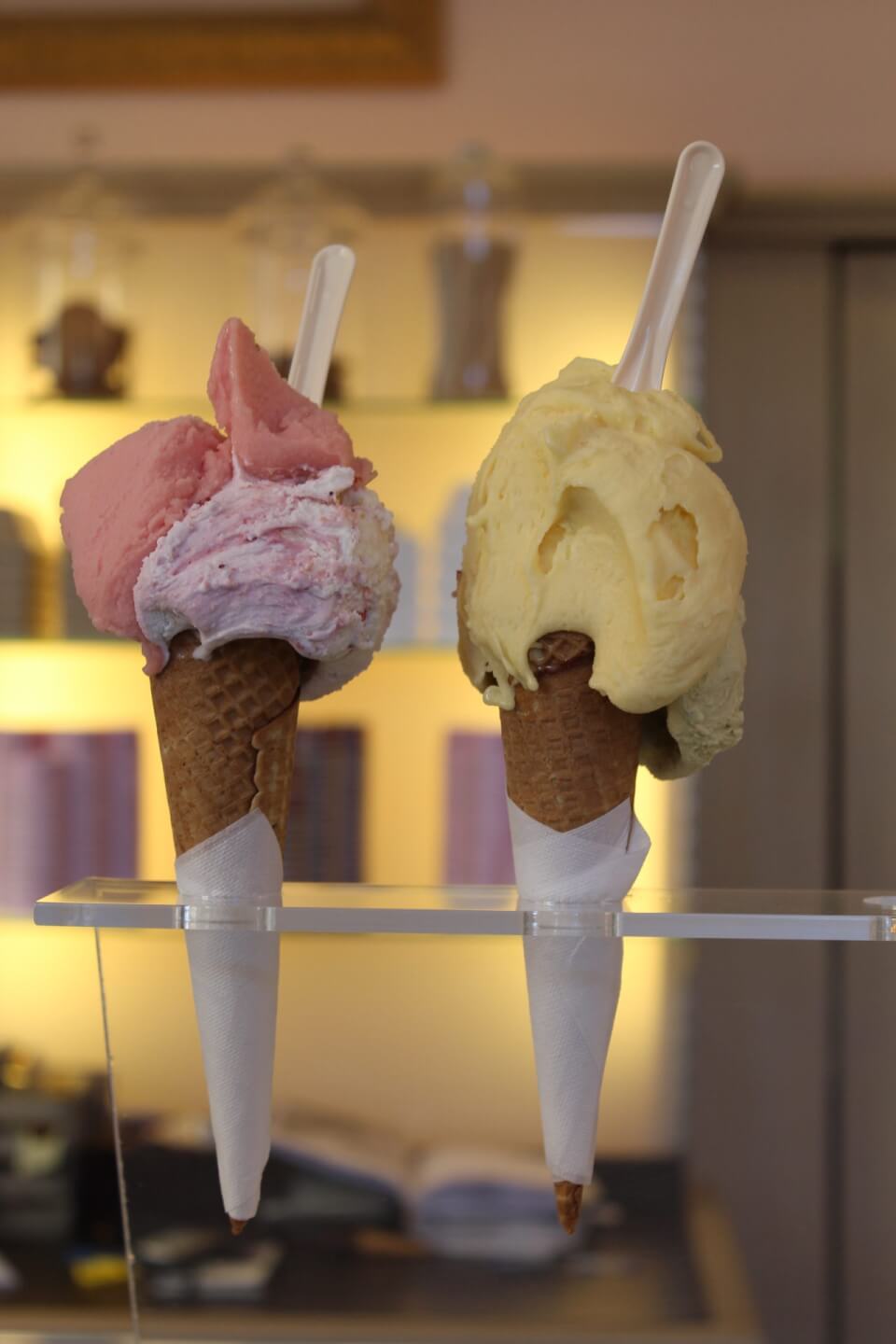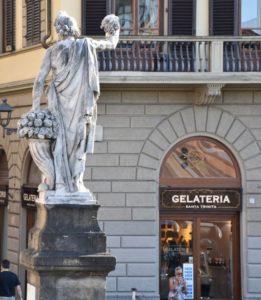 3. Edoardo Bio
Where: Piazza del Duomo 45r
Why to go:If you appreciate natural and healthy food, even when it comes to sweets, this is a perfect place for an Italian gelato in Florence!
Edoardo Bio is located in the heart of Piazza Duomo and it has the first certified
organic gelato in Tuscany. The entire gelateria production chain is verified, guaranteeing gelatos totally biological! The result is a gelato made only with natural and organic ingredients, without any chemical elements, transgenics or artificial dyes. It is a must, isn't it?
Just like the gelato, which is made like the old times (natural and delicious!), Edoardo Bio's decoration has also a vintage charm. The gelato boxes, the wooden counter, the old cash register, the employees' retro clothes … everything makes you feel back in the 1940s!
Finally, one more reason to go to Edoardo Bio when you are in Florence: the gelato cones! They are handmade in front of customers with an irresistible smell!
What to see nearby: the majestic Duomo, with its incredible dome, the bell tower and the Baptistery.
Unmissable flavors: Raspberry and mango in handmade cone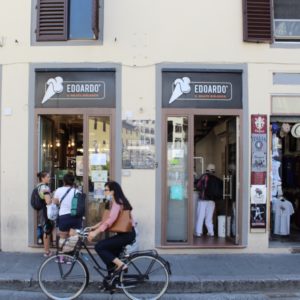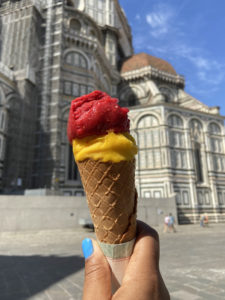 4. La Carraia
Where: Piazza Nazario Sauro 25r (Ponte alla Carraia)
Why to go: This gelateria founded in 1990 was named after one of the many bridges that cross the Arno River, the La Carraia Bridge, which is also one of the oldest in Florence.
La Carraia is often on the list of the best places in Florence to have an Italian gelato. There is no wonder: its gelato is perfectly creamy, consistent and very, very tasty! At the same time, the service is very friendly and you can eat your gelato enjoying the view of the river!
Another difference of La Carraia is the way it unites tradition and innovation. Besides the traditional and most loved Italian gelato flavors, such as pistachio, chocolate and hazelnut, there are always new and exclusive flavors. In sum: once in the historical center of Florence, take some time to go to La Carraia!
What to see nearby:The Arno River and its beauty!
Unmissable flavors: Marmo di Carraia (cream with wafel and chocolate)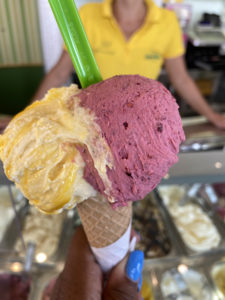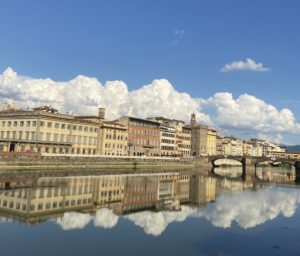 5. My Sugar
Where: Via de'Ginori 49r
Why to go: They say the best perfumes come in small bottles, right? Well, that is what My Sugar proposes with its gelato! After all, this tiny gelateria won the Florence Gelato Festival in 2016.
In its simple and well decorated interior design, you will find the best Italian gelato in Florence! The young owners (a couple) are often behind the small counter ready to serve the customers. My Sugar's gelatos are really delicious and according to the tradition, they are made daily with fresh ingredients and the highest quality.
The place is popular among the youngers, perhaps for its adventurous and creative menu. In addition to the traditional flavors and the cones made on site, there are super different gelatos, such as Asian-inspired ones, including black sesame and azuki beans! There are also great vegan options.
As a bonus, My Sugar has a strategic location: it is close to San Lorenzo Market and the Medici Chapel. So, My Sugar is an utmost for Italian gelatos in Florence!
What to see nearby: the Medici Chapel with Michelangelo's artworks.
Unmissable flavors: Fiodilatte with Basil and Mint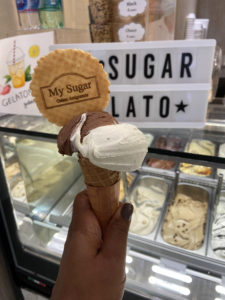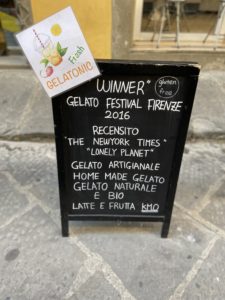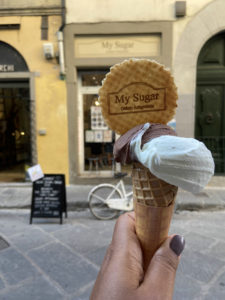 6. Perche No!…
Where: Via dei Tavolini 19r
Why to go: Perché No! … (which means "Why not?") Could not be missing from our list of places to enjoy an Italian gelato in Florence!
Small and charming with a neon red sign, this gelateria in the heart of the historical center is one of the most traditional in the city. Since 1939, it has been producing homemade gelato with fresh ingredients, without artificial dyes, food preservatives or vegetable fats. In other words: the authentic and unmistakable Italian gelato!
At Perché No! … you often find a queue at the door. However, it is worth waiting to amaze your eyes and taste. You will find unusual flavors besides the traditional ones, such as lavender, ginger and curry with mango and peach. Perfect for adventurous palates!
Finally, a curiosity: "Perché No!" was the first gelateria to use a glass showcase to display the ice-cream flavors, something that it was spreaded later around the world.
What to see nearby: Piazza della Signoria, Orsanmichele Church, Piazza della Repubblica
Unmissable flavors: Pistachio + Fiordilatte with Honey and Sesame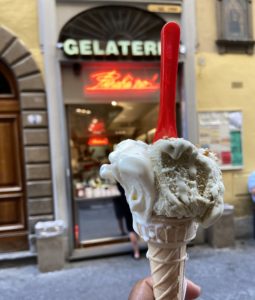 7. La Strega Nocciola
Where: Via de' Bardi, 51/r
Why to go:
When talking about Strega Nocciola, the question is: why not to go? Our seventh and last tip of Italian gelatos in Florence is considered by many to be one of the best in the city.
Strega Nocciola (which means "Hazelnut Witch) has an excellent location, just after the Ponte Vecchio towards Oltrarno. If this is itself a plus, the best is yet to come. Its gelatos are incredibly delicious and creamy.
According to Strega Nocciola, "it is always necessary a little magic to do good things!" The saying is correct: the gelato here is magical! In addition, for those who like to escape the obvious, there are more exotic flavors such as lavender and white chocolate with cinnamon.
Does it sound good? So, surrender yourself to the delicious spell of Strega Nocciola and be sure to visit this gelateria when you are in Florence!
What to see nearby: The wonderful Ponte Vecchio with its gold shops, street artists and beautiful views.
Unmissable flavors: La Strega Nocciola and Lavender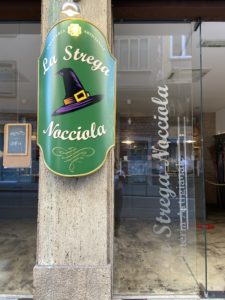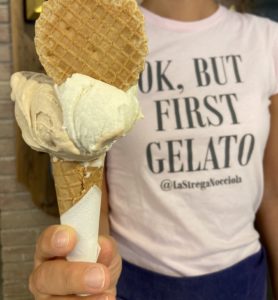 Italian Gelato + Florence: an unbeatable duo!
So, have you enjoyed our tips? We bet it has made your mouth water!
If you want to find out the historical beauty of Florence and taste all the delights in loco, we are ready to help, creating your customized travel itinerary. Cieli di Toscana's team knows Florence and Italy like the back of their hands. Therefore, we are ready to prepare a tailor-made trip, including all the services you desire.
The trips planned by Cieli di Toscana offer 5-star services, concierge and assistance in English throughout the trip.
We design a customized itinerary based on your preferences. You will find in it useful information and suggestions of the best of each city: places to visit, the most beautiful roads to reach the destination, the most convenient parking lots, the best restaurants, stores, experiences and much more.
Besides, you can check our exclusive app with more than 1,500 suggestions of what to do, where to buy and where to eat at your destination!
How about contacting us and start making your dream-trip come true?